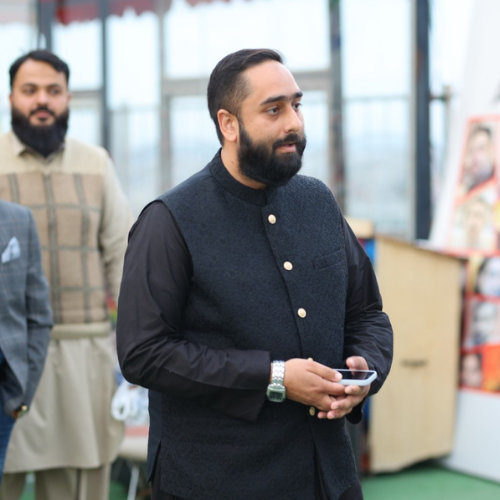 A British Born Pakistani Breeding Lovebirds Since 2009 Till Date. Striving To Promote Aviculture Throughout Pakistan Till It Becomes A Cottage Industry.
I along with my entire family left UK to live in Pakistan permanently and was in search of business ideas. We came across many and lost money by trusting people etc. We came across this bird business and found it amazing. Without any experience or research I started building my aviaries and invested 2.5 Million rupees which I had borrowed from my father.
After 2 years I realised that my birds were not breeding and something is definitely wrong, I consulted with seniors and discovered that The "Breeding Pair" I had purchased in double price were actually both males ! I was misguided and had more than 20 different species of birds. I then came across Jawaad Sheikh CEO J&J Bird Supplies, he advised me to sell my entire stock and become a specialist in 4 Species only. I took his advice and sold what I had bought in 2.5 Million Rupees in just 0.9 Million Rupees. I was disappointed and had that guilty feeling that I had ruined my father's money so I thought now it's time to cover the loss !
I started to breed 4 Species on advice of Jawaad Sheikh, 1. Finches 2. Javas 3. Budgriegars 4. Lovebirds I started researching and asking foreign breeders questions and learnt a lot from them, amongst my very first teachers was Johnny King. An aviculturist with experience over 50 years from Australia. I would ask questions and note down points in my notebook. I then would frequently visit Imran Tauqeer from Lahore and constantly visit him from Muridke to Lahore EVERYDAY for 2-3 Years !!!!!! I would ask him and note down points, I implemented what I had learnt and became a successful breeder and started selling birds in Muridke. Sadly in 2013 muridke was hit by a flood and I had to wind up my entire set up. 2013-20I4-was offered a Job by Mian Khursheed Mahmood Qasuri (Ex Foreign Minister) at Lahore Maktab ( His Relatives) I was left with no choice but happily agreed after their warm welcome and package they had offered me. I was granted permission to breed birds in the school premises. This was the day I made a promise to Alllah that now it's time I make ease for people in this hobby as people were unaware on how to breed and I started making videos in Urdu and uploaded them on Facebook.
I came across many well renowned breeders, amongst them my Guide, Teacher & Brother Muhammad Ali Walay (MAW) he polished my communication skills and helped me interact with a larger audience, so I started making videos in English and started teaching the international audience which focused on Asia specifically. I started getting views in hundreds of thousands and was gaining fame in the country along with appreciation from Government employees especially serving officials in The Army.
After resigning from Lovebird Society Of Pakistan (LSP) as General Secretary, I decided to teach people for free what no one does even after taking money so I began through WhatsApp. I announced all Fanciers who want to learn about lovebirds to text me their name, city and number and would add them in broadcast lists. Whenever I made a video or write something would share that link in all lists, the benefit was I gave every individual importance as the message would go directly from me, in groups people fight and comment without thinking so till date i have used my broadcast lists for awareness NEVER to sell my birds.
I have built 3 beautiful aviaries in muridke which I intend to fill with birds adapting the same strategy back in 2013. I am well known all over the world for breeding lovebirds and promoting it BUT in Pakistan it has dissociated me from breeders of other species. I enjoy socialising and meeting new people and it's my aim to promote aviculture all over Pakistan, that can only be achieved when we are all on 1 page.